This past week?
GOODNESS WHERE TO START?!?

On the international front, the Amsterdam Burlesque Festival got a nice write up in the Burlesque Baby Blog this week: http://burlesquebaby.blogspot.com/2009/10/1st-annual-international-amsterdam.html

To find out more about this new festival check out the website here (it's awful creamy isn't it?):
http://amsterdamburlesquefest.com/home

Syrens of the South played to a packed Variety playhouse, I have to say, there isn't much better for a lady's birthday than that! LOOK! You can see our booth in the background! heh, the only one I could find just yet, teehee!



Miss Renea' le Roux is back in Atlanta fresh and lovely from her performance with some of the biggest names in burlesque, including the reigning Miss Exotic World, Kalani Kokonuts





Honestly, I don't think this town can do Halloween without Burlesque, every year we talk about how busy we are and it never seems to go out of fashion to have at least one burlesque event on Halloween so here's the line up of the must see's and do's of the dames of daring and darling decolletage!

Tomorrow:


Drink and Draw is figure drawing with live models in amazing cosplay outfits from your favorite comic books and movies. There are timed sketches with trivia questions and prizes in between. Come on down and hang with some of the greatest amateur and professional artists from all over Atlanta. Beer and food specials run all night long. To celebrate Halloween this month, we are having a Drink and Draw masquerade. Anyone who shows up in costume and will pose for a 5 or 10 minute sketch, eats and drinks for free! At the end of the night there will be a costume contest for anyone who comes dressed up - whether you modeled or not. The grand prize will be over $150 worth of house cash and goodies, and bragging rights until next year. Please let us know in the comments if your interested in modeling so we can keep enough spaces open. It will be a great night of drinking and art, and a great trial run for your Halloween costume. Come on out and have some fun!!
FRIDAY:
Dames Aflame Show!
Dames Aflame's "Showbiz What Sizzles!"
at Le Maison Rouge inside Paris on Ponce

Two show times: 8:00pm and 10:30pm
Proceeds to benefit The Rainbow Center.

The special Halloween production of "Showbiz What Sizzles" features brand new acts along with your favorite Dames Aflame classics. This adult-themed show attracts a diverse audience with its edgy comedy and elegant striptease.
Costume Contest! Fabulous Prizes!
Celebrate Halloween and Pride all for a good cause.
Portion of the evening's proceeds to benefit the Rainbow Center.

Tickets on sale now at TicketLeap.com.
General Admission $25.
Limited VIP seating also available.

Le Maison Rouge is located inside
Paris on Ponce
716 Ponce de Leon Place, NE
Atlanta, GA 30306
www.parisonponce.com

SATURDAY:
Double Header Party with Blast Off!!! Come ON!!! IT's not Halloween without the spook show, it just isn't, what's great about doing the spookshow on halloween is you can do the afternoon matinee and then take your kids out trick or treating afterwards!




Double header Halloween Party with the Syrens!
Bring Out Your dead!
Get Back from the Grave!
Embrace your Inner Zombie!

FIRST SHOW:
Join us for an evening of Art, Poetry, Burlesque, and Music!
Featuring The Atomic Rockets, Syrens of the South & The Tennessee Tease, and Night of the Living George!
Bubba K performing outdoors throughout the night!
Costume contest with a Cash Prize!
$10 cover includes all entertainment and Beer! Wine! at the Gratuity Bar!



SECOND SHOW:
Looking for something to do this Halloween? Come check out this amazing event at the Spring 4th center brought to you by Horrible Children and featuring talent from Syrens of the South Productions!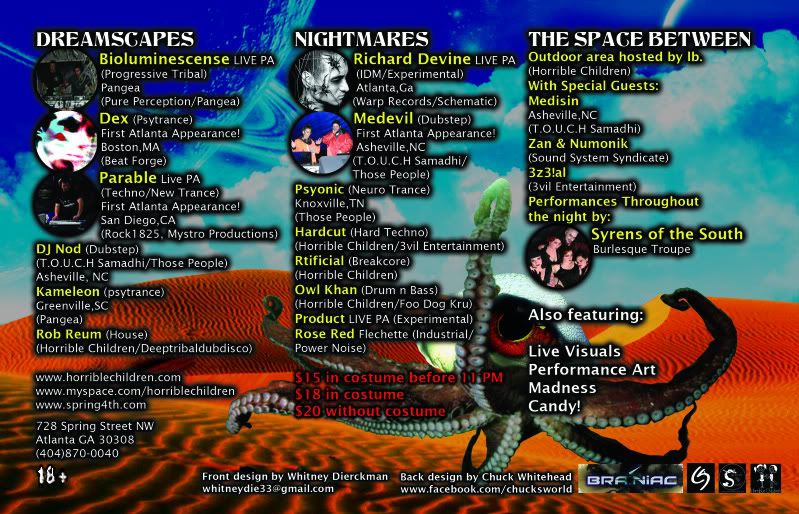 SUNDAY: NO ABC's AND 123's of Burlesque this week folks!!! Holidays are important to the Syrens but stay tuned next week because I will be teaching classes on vintage hair and burlesque bellydancing! See you then!